Feldenkrais Classes & Workshops Jan-April 2023
Preventing injuries is one of the aims of the Feldenkrais Method. You can apply the benefits of the Method into everyday life, improving your performances and activities as your own yoga practice, dancing, drawing, acting, gardening and running. If you know what are you're doing, you can do anything. – Moshe Feldenkrais.
In this One-One sessions you will learn how:
Relieve tension and muscle pain
Improve posture, balance and coordination
Natural breathing
Explore and highlight your movement habits
Connect with the inner strength through your skeleton
Discover how the plasticity of the brain allows you to carry out a true transformation process.
Functional Integration.
Feldenkrais 1-1
At Healing Well
Health and wellness Centre
147 Mostyn Street,Castlemaine Vic 3450
Feldenkrais Group Classes
Awareness Through Movement Classes
Have you been holding tension in your pelvis and not knowing how to improve it?. Are you sensing discomfort in your lower back, and you already tried meditation and Yoga or a new Pilates course, but stretching, strengthening and sitting still for an extended period is not giving you any good?. If you have been experiencing any similar situations, I want you to know that you are not alone!
It is incredible to notice how many of us have been holding ourselves with limitations for a very long time and accepting it as part of NORMAL life.
But another way of holding yourself is possible. So come and join me on this Ninw-week course; we will explore the possibilities of improving your life from the inside out, without stretching, strengthening or working hard. Instead, you will explore how to use your muscles efficiently to coordinate your skeleton to move with ease and freedom.
Awareness Through Movement Classes
Thursdays  9:15 am to 10:30 am
Term 1, 2023
Feb 02- March 30th
(9 weeks)
Over the Moon Yoga and Dance Studios
9 Templeton St, Castlemaine VIC 3450
Awareness Through Movement Classes
Friday 9.15am -10:15 am
Term 1, 2023
Feb 02- March 30th
(9 weeks)
CCH
30 Templeton Street, Castlemaine VIC 3450
Physical Theatre Improv Course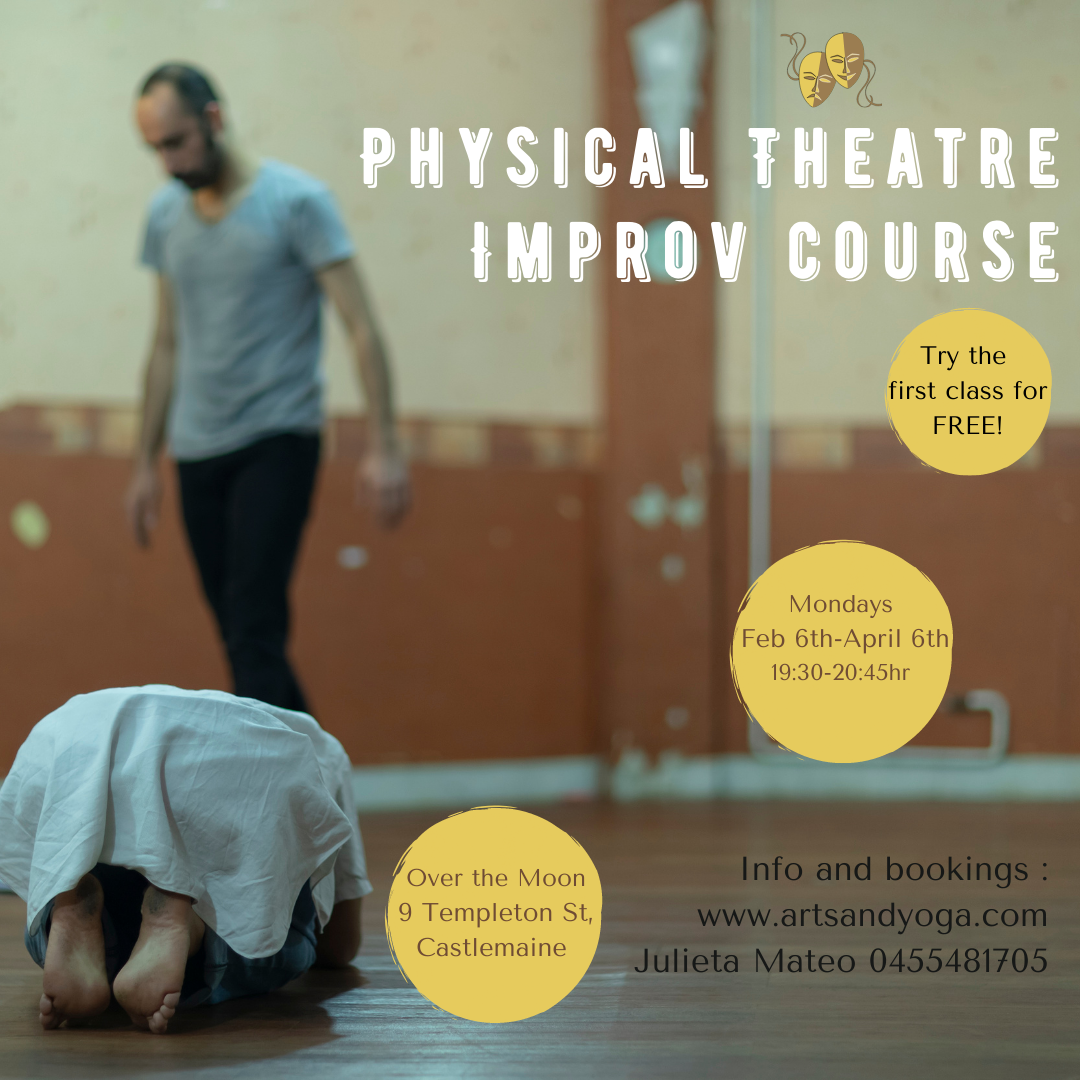 Improv Theatre for Beginners in Castlemaine!
FIRST CLASS FREE Feb the 6th at 7:30 pm
Improv Theatre course for Beginners covers the basics of improvisation. You'll work your creativity and unlocking yourself through improv exercises based on play, collaboration and support. This course is designed to help you break out of your comfort zone and have fun!
We'll explore the rich principles of improvisation:
Being present, listening accepting offering from your colleges- saying yes, Idea generation, Collective agreement, allowance to take risks, improving your skills in communication
Nine weeks of fun!
Mondays  feb 6th- April 3rd, 19:30 -20:45
Over the Moon
9 Templeton St, Castlemaine VIC 3450,