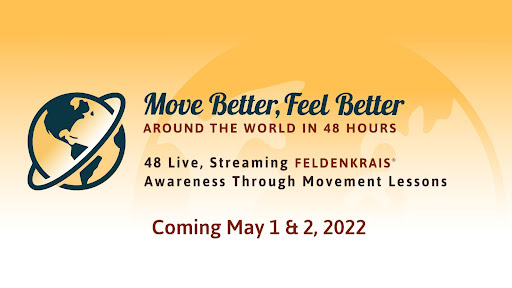 Starting May 1st through the 2nd, you can jump online and enjoy a LIVE movement lesson at the top of every hour. There is no such thing as a bad timezone or schedule.

Reduce pain and quiet your mind while reclaiming function and mobility during 2 days of around-the-clock Feldenkrais Awareness. We welcome beginners and have something for EVERYONE.
And better yet, it's FREE.
You will even get free access to the replays for a few days after the event is over.
Imagine the benefit you can get by studying with a variety of expert teachers.
Click here to move better and feel better together by circumnavigating the world with Feldenkrais!
Julieta has inspired in me a deeper awareness of my own body, through a process of slowing down and listening intently, with subtle shifts in the body-mind connection, I have come to a more in-depth understanding of how my body works and what I can do to improve my experience of living with ailments that have developed over time.
Julieta assists in a supportive and empathic way, an opportunity to find your way back to yourself through subtle shifts and deep exploration.